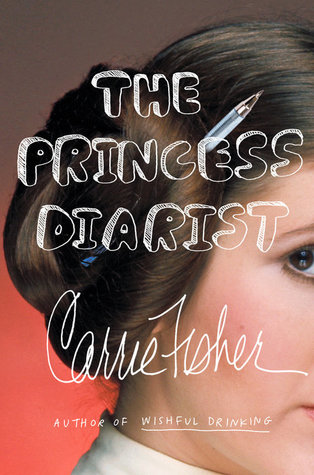 Book: The Princess Diarist
Author: Carrie Fisher
Pages: About 5 hours (audiobook)
Published by Penguin Audiobooks on November 22, 2016
Genre(s): memoir, audiobook, autobiography, biography, non-fiction
Rating: 3.5 stars
Series? no
Plot: (Goodreads synopsis) The Princess Diarist is Carrie Fisher's intimate, hilarious and revealing recollection of what happened behind the scenes on one of the most famous film sets of all time, the first Star Wars movie.
When Carrie Fisher recently discovered the journals she kept during the filming of the first Star Wars movie, she was astonished to see what they had preserved—plaintive love poems, unbridled musings with youthful naiveté, and a vulnerability that she barely recognized. Today, her fame as an author, actress, and pop-culture icon is indisputable, but in 1977, Carrie Fisher was just a (sort-of) regular teenager.
With these excerpts from her handwritten notebooks, The Princess Diarist is Fisher's intimate and revealing recollection of what happened on one of the most famous film sets of all time—and what developed behind the scenes. And today, as she reprises her most iconic role for the latest Star Wars trilogy, Fisher also ponders the joys and insanity of celebrity, and the absurdity of a life spawned by Hollywood royalty, only to be surpassed by her own outer-space royalty. Laugh-out-loud hilarious and endlessly quotable, The Princess Diarist brims with the candor and introspection of a diary while offering shrewd insight into the type of stardom that few will ever experience.
My Thoughts:
I think I've said this before, but I really like listening to autobiographies on audiobook. I know that it's just the writer reading what they've written, but something about it makes them feel more real. Like we're having a conversation and I am getting to know them instead of me just reading about someone I want to meet. This book was no exception to those feelings.
The first movie I ever remember seeing in theaters was Star Wars: Episode III – Revenge of the Sith. I was 10 (yes, I probably did see movies before then, but I can't remember them). And I loved it. Maybe because my dad was so excited about it (he had his theater tickets from Episode V displayed on his workbench forever). Or maybe just because I was a nerd (even then). But I remember watching everything happen on a screen that was 10 times taller than me. We went home and my dad showed me Episodes IV, V, and VI. The world was so foreign to me. So exciting. With little green creatures who shared profound pieces of information and giant teddy bears that screeched.
And while I haven't read any books or comics, I have seen all the movies. It's even become a family tradition to see the movies together in theaters (even my mom who could care less). Star Wars had such an impact on my childhood. So when the audiobook for The Princess Diarist (narrated by none other than the late Carrie Fisher) came across my Libby app as I was preparing for a 6-hour road trip, I couldn't say no.
And those hours in the car flew by.
I learned so much about behind the scenes of the filming of the original movies. More about the actors and the lives they lived before they were truly famous. I felt like Carrie Fisher was sitting by me and telling me stories of her wonderfully exciting years of youth. Before she was famous. Before Star Wars was a huge sensation. Before I was even born. And it was wonderful.
She was charming. And funny. And honest. Her life didn't go the way she planned, but throughout the book, she didn't hide or lie about the bad things she did. She talked about her life the way I hope I do if I ever get the change. Because she lived.
However, the book wasn't exactly what I was expecting. Probably because the first Star Wars films were released more than a decade before I was born. Nearly everything she talked about occurred before my life began and I felt like I was just missing so many nuances.
Overall, I really did like the book. I rate it at 3.5 stars because Carrie Fisher is witty and funny and interesting but I found the book hard to relate to. I would recommend this to anyone who loves Star Wars, especially the original three, people who love autobiographies, and those who loved Carrie Fisher's other books. Fisher is a talented writer and weaves her life into a beautiful and exciting story.
---
Let's talk!
Have you read this book? Did you enjoy it? Did you hate it? Is Star Wars an important part of your life?
Until next time…