Fear can be a good thing. Fear doesn't let you forget. And the fear you have, the respect you have […] I think that's an ability too.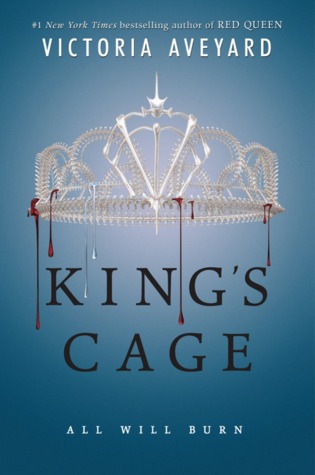 Book: King's Cage
Author: Victoria Aveyard
Pages: 512
Published by HarperTeen on February 7th, 2017
Genre(s): YA, fiction, fantasy
Rating: 3.5 stars
Series? Yes (Red Queen, #3)
Goodreads synopsis: In this breathless third installment to Victoria Aveyard's bestselling Red Queen series, allegiances are tested on every side. And when the Lightning Girl's spark is gone, who will light the way for the rebellion?
Mare Barrow is a prisoner, powerless without her lightning, tormented by her lethal mistakes. She lives at the mercy of a boy she once loved, a boy made of lies and betrayal. Now a king, Maven Calore continues weaving his dead mother's web in an attempt to maintain control over his country—and his prisoner.
As Mare bears the weight of Silent Stone in the palace, her once-ragtag band of newbloods and Reds continue organizing, training, and expanding. They prepare for war, no longer able to linger in the shadows. And Cal, the exiled prince with his own claim on Mare's heart, will stop at nothing to bring her back.
When blood turns on blood, and ability on ability, there may be no one left to put out the fire—leaving Norta as Mare knows it to burn all the way down.
"What do you want, Cal?"

He answers quickly, eyes blazing. "You." His fingers tighten on mine, hot but steady in temperature. He's holding himself back as much as he can. "I am in love with you, and I want you more than anything else in the world."

Love is not a word we use. We feel it, we mean it, but we don't say it. It feels so final, a declaration from which there is no easy return. I'm a thief. I know my exits. And I was a prisoner. I hate locked doors. But his eyes are so close, so eager. And it's what I feel. Even though the words terrify me, they are the truth. Didn't I say I would start telling the truth?

"I love you," I whisper, leaning forward to brace my forehead against his. Eyelashes that are not my own flutter close to my skin.
My Thoughts:
I read this book back in February and I still haven't figured out where I stand on it. I really do love these books. Victoria Aveyard is a truly spectacular writer, but this one just left me feeling…  something. I'm not even sure how to describe it. But the emojis help (see picture –> ). (What I really need is someone to talk this book through with, but my sister STILL hasn't read it!)
I feel ready for this series to end.
I feel like reading this story for the rest of my life.
I feel sick and tired of reading about this particular love triangle.
I feel Mare's love for her family and Cal Calore.
I feel broken, tired. Like Mare Barrow.
I feel resilient like the Reds. Stong. Bonded together through something they don't fully understand.
This book – this series – has so much going on that it is difficult to put all my thoughts down on paper.
Victoria Aveyard is an undeniably talented writer. Her ability to build this world and its characters have captured the attention and hearts of hundreds of readers around the world. Her writing brings the character's alive in the minds of her readers. From Mare's strength when she is broken to Mavin's fiery personality there is no denying that the character building is tops. As this is the third book (of 4), the character's are already well developed which, in my experiences, leads to a dragging book. Yet, somehow, Aveyard twists the story to bring out new and surprising changes at each turn. Keeping me guessing through the last page.
Sidenote: I am always starting series before they're finished and I DESPISE having to wait for the next book! Somehow I picked up all these books not even knowing that they're going to be series… Does anyone else have this problem? How do you keep from forgetting everything in between? [I sense another blog post!]
At a time where trilogies are dominating the YA fiction world, it's a refreshing change to come across a quadrilogy. That being said, and as I mentioned above, I am ready for this series to come to an end. I love this story and adore Victoria Aveyard's writing, but I think this series is almost out of shocking twists. There are only so many times something surprising happens before you become immune to its works. The drama of relationships combined with something always going wrong leaves me feeling wrung-out. Tired.
Overall I enjoyed this book, it was another exciting addition to the Red Queen series. I give the book 3.5 stars because it's a powerful and well-written story. I look forward to reading the final installment, Glass Sword, as it came out earlier this summer. I would recommend this series to anyone who enjoyed Divergent, Carve the Mark, Hunger Games, or those type of books. This series is full of exciting twists and turns that will keep any reader guessing.
We will not break, and we will no longer bend.
---
Let's talk!
[Becuse, seriously, I need someone to talk through this with!] Have you read these books? What are your thoughts? Have you read Glass Sword? Does the series come to a good end? Do you love Aveyards writing?
Until next time…