I do face facts. They're lots easier to face than people, I can tell you.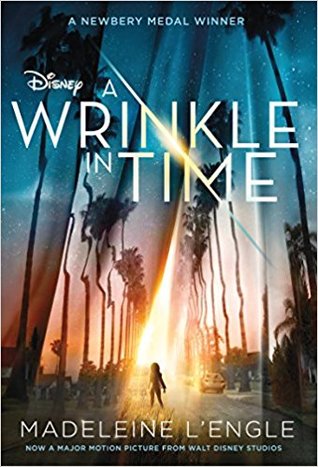 Book: A Wrinkle in Time
Author: Madeleine L'Engle
Pages: 256
Published 1962
Genre(s): middle grade, young adult, fiction, fantasy
Rating: 4 stars
Series? Yes, Time Quintet
Plot: (Goodreads synopsis)
It was a dark and stormy night; Meg Murry, her small brother Charles Wallace, and her mother had come down to the kitchen for a midnight snack when they were upset by the arrival of a most disturbing stranger.
Meg's father had been experimenting with this fifth dimension of time travel when he mysteriously disappeared. Now the time has come for Meg, her friend Calvin, and Charles Wallace to rescue him. But can they outwit the forces of evil they will encounter on their heart-stopping journey through space?
We know what things are like. It must be a very limiting thing, this seeing.
My Thoughts:
I really think I would have loved this book more if I had read it when I was a little younger. It has a lot going for it. The story is highly unique, especially when you consider that the book was first published in 1962. Time travel using the 5th dimension? I'm in. However, the entire time I was reading it, I just felt like the book was written for someone younger than me.
I really loved the story, a girl that doesn't fit in because she doesn't learn the same way as the other kids in her class. Her father missing. Doing everything she can to get him back. And it turns out that she's the only one who can do it. Well, her, her friend, and her younger brother. This really is a cute "save the world" story. A story that middle grade readers will love because it has all the important aspects of growing up.
I loved the unique story. While 5th dimension time travel has been the target of many books and movies recently, this book has aspects that I hadn't previously thought of or encountered. The extraterrestrial beings in addition to the cloud of pure evil were a page-turning point of focus for me. The writing was also well done, I felt very drawn into the book from the get-go. I'm not used to reading middle-grade novels, so I can't say much more about the writing than that. However, I was impressed by how much I was drawn into the book even though it is for a much younger audience.
While I loved most of the aspects of the book, I was not a fan of the romance. Meg and Calvin? I do like the characters, and I would ship them, it was just an awkward side note that really didn't fit anywhere in the story. I felt that their little relationship was unnecessary and didn't add anything to the story. I also enjoyed the POV the story is told from (Meg's), but there were a few points in the book it would have been slightly less confusing to see through another character's eyes. However, Meg's point of view gives the reader an inside look into her very well developed character.
The writing is relatively well done but it is a hard thing for me to comment on because it's targeting a younger audience. The romance was a little odd for my tastes, but maybe it gets better later in the series. I also really enjoyed that the science-y part of this science fiction was believable. Make reading it that much more enjoyable. Overall, I gave this book 3.5 stars because it really was unique especially at the time it came out. I would recommend this book to adventure-seeking readers who are about 8-13 years old, but this is one of those books that I think any reader would like.
I love you Charles Wallace, you are my darling and my dear and the light of my life and the treasure of my heart. I love you. I love you. I love you.
---
Let's Talk! Have you read this book? Are the rest of the books in the series worth reading? Do you agree or disagree with my positions?