I thought I possessed all the answers. Or at least most of them. Now I know I understand nothing.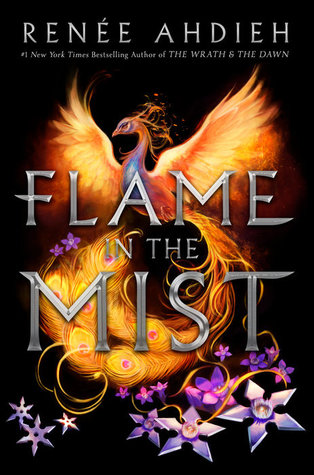 Book: Flame in the Mist
Author: Renee Ahdieh
Pages: 392
Published by G.P. Putnam's Sons on May 16, 2017
Genre(s): fiction, YA, fantasy
Series? YES (BONUS: the second book, Smoke in the Sun is out TODAY!)
Plot: (from Goodreads) The only daughter of a prominent samurai, Mariko has always known she'd been raised for one purpose and one purpose only: to marry. Never mind her cunning, which rivals that of her twin brother, Kenshin, or her skills as an accomplished alchemist. Since Mariko was not born a boy, her fate was sealed the moment she drew her first breath.
So, at just seventeen years old, Mariko is sent to the imperial palace to meet her betrothed, a man she did not choose, for the very first time. But the journey is cut short when Mariko's convoy is viciously attacked by the Black Clan, a dangerous group of bandits who've been hired to kill Mariko before she reaches the palace.
The lone survivor, Mariko narrowly escapes to the woods, where she plots her revenge. Dressed as a peasant boy, she sets out to infiltrate the Black Clan and hunt down those responsible for the target on her back. Once she's within their ranks, though, Mariko finds for the first time she's appreciated for her intellect and abilities. She even finds herself falling in love—a love that will force her to question everything she's ever known about her family, her purpose, and her deepest desires.
Sometimes we must fall forward to keep moving. Fall forward. Keep moving. Even if you must pick yourself up first.
My Thoughts:
I picked this book up for two reasons: 1) I read some really good reviews and 2) the cover is pretty (yes, I'm that person). It took me a solid 100 pages to really get into the book and by that time, I just wasn't expecting to like it that much. So the 4-star rating kind of  surprised me. But this book really does have a lot to offer.
What I Liked:
The characters. As basic as that may seem, I really enjoyed getting to know the characters. Their development was beautifully done with the past being revealed as they got to know one another.
The plot. I haven't read many books based around the Samari culter (actually none, now that I'm thinking about it). I believe Aldieh dud a really great job merging the culture into the story while keeping it simple and organized for an outside reader.
The badass main character. I know I already said characters, but Mariko deserves a special note. Instead of being the damsel in distress, Mariko really takes control of her future and learns to take care of herself rather than trusting someone else to do it for her.
The writing. I've never read a book by this author before, but I was really impressed with the style and eloquence of her writing. It did take some getting used to, but in the end, I really loved it.
What I Didn't Like:
How long the story took to get going. I'm not usually the kind of person who puts down a book lightly (remember my DNF post?), so I pushed through and I am really glad I did. I'm all for character building, but this book just took SO long to take off.
I found the story to be a bit backloaded. This kind of falls into the same line as the above comment. Once the story took off it really took off. Once I got into the story I literally couldn't put the book down. A big part of that, I think, was how fast the second half of the book moved. I'm not saying that the ending felt rushed, but it was just such a different pace from the beginning of the book that something felt off the entire time.
I give this book 4 stars because it was a great story with wonderfully written characters. I did struggle to get into the book, but once I did I couldn't stop reading. I am super looking forward to the release of the second book in the series TODAY! I can't wait to keep reading about Mariko and her trials in the next book. This book was also full of little one-line quotes that I kept track of and have been using as mantras in my house (see image below). Again, it was a really well-written novel.
I would recommend this book to YA fiction lovers, but rather than my usual dystopian target, this book is more for those that love cultural and historical stories. Overall, this was a great book and I really did enjoy it.
Without risk, life is far too predictable.
Let's talk! Have you read this book? What did you think? Would you rate it the same as I did? Differently? If you haven't read it, are you planning on it?
Until next time, happy reading!